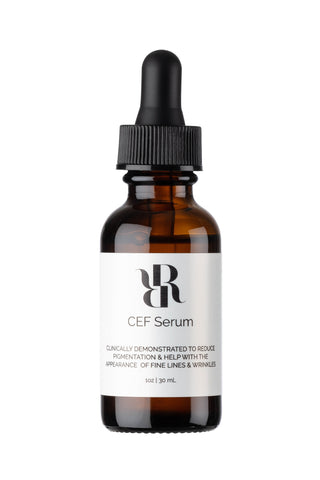 Reflect CEF Serum
Serum
By combining the strength of vitamins C, E and Ferulic acid, we bring you Reflect CEF Serum. Our revolutionary, clinically demonstrated serum, is upwards of 4-8 times more effective than vitamin C serums alone and helps with:
restoring skin elasticity
promoting new collagen
protecting against UV damage
reducing redness
anti-aging
pigmented spots
improving skin tone
fine lines/wrinkles  
overall skin health
How to use:
Apply 1-2 pumps onto fingers and cover face and neck with a thin layer. Allow to dry before applying other products. Use 1-2 times per day or as directed by your physician. Be sure to wear sunscreen following use during the day. Rinse well if you feel any discomfort.
Key Ingredients:
15% L-ascorbic acid, .1% tocopherol, .5% ferulic acid, sodium hyaluronate
Ingredient list:
Water, Ascorbic Acid, Glycerin, Ferulic Acid, Alpha-D-Tocopherol, Phloretin, Sodium Hyaluronate, Punica Granatum (Pomegranate) Seed Oil, Tocotrienols, Tocopherols, Astaxanthin, Lycopene, Xanthophyll, R-Alpha Lipoic Acid, Beta-Carotene, Citrus Aurantium Dulcis (Orange) Juice Extract, Citrus Medica Limonum (Lemon) Juice Extract, Xanthan Gum, Phenoxyethanol (and) Caprylyl Glycol (and) Sorbic Acid.